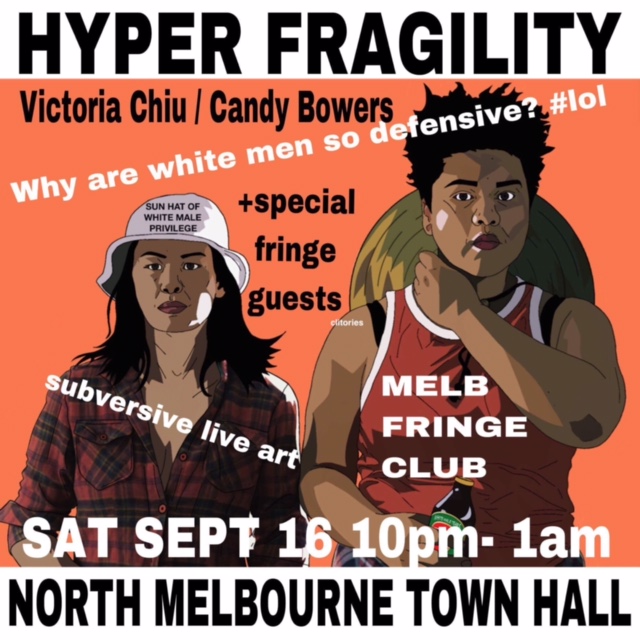 Hyper Fragility
Interview Timeout
https://www.timeout.com/melbourne/news/why-these-two-artists-say-white-men-need-to-lean-in-120817
By Jessica Bellamy for Timeout Posted: Friday December 8 2017
- Blink and you'll miss the "hyper fragility boardroom". In fact, I walk right past it at first, until Candy Bowers and Victoria Chiu steer me towards their makeshift performance space at Arts Centre Melbourne. The "hyper fragility boardroom" is a long white room at the bottom of the building, which plays host to benefactor dinners throughout the year. This week, however, the boardroom will be reappropriated for a slightly different get-together: Bowers' and Chiu's feminist performance art piece Hyper Fragility. Chiu tells me, "no one knows it's here, behind mirrored doors" and Bowers adds, "we wanted a place where people like us would rarely be."
Chiu and Bowers chat like a long-bonded creative team, despite this being their first year of collaboration. They met several years ago at Kultour National Gathering, a cross-disciplinary networking event concerning the state of diversity in the arts. They quickly clicked with a collaborative spark that Bowers describes as, "when everybody else has gone to sleep, but you two are sitting in the foyer with a bottle of champagne saying 'what else do you think?'"
It took about three more years for Chiu to approach Bowers with a one-line provocation for them to investigate: "do you want to make a work about assimilation?" Chiu, a contemporary conceptual dancer, describes working with Bowers as motivational. "I felt my work in Australia went into more cultural territory, but I wasn't using any voice with it."
The pair decided to team up Bowers' words with Chiu's movement and see what might come of it. They resisted the urge to answer their own questions too soon ("what is it?" "where does it fit"), and instead immersed themselves in conversation, inspiration and pop culture references. A show came together from sources such as Beverly Wang's "This is not a race" podcast, Robin Thicke's problematic 'Blurred Lines' video clip, Dr Robin DiAngelo's formative scholarship on white fragility and their own education as young people inhabiting identities that deviated from white Australian dominant culture.
Bowers has comfortably settled on a genre, and a slogan for this work: "Experimental feminist performance art. Who doesn't need that before Christmas? You're about to go into a very normative space. You need something to giggle about."
Finding humour in the weighty domain of race, gender, colonialism and intersectionality might seem a challenge.
The show's title is a meditation on white fragility, the state in which, to paraphrase DiAngelo, even a minimum amount of racial stress becomes intolerable to people who have always considered their whiteness to be unremarkable. It can trigger defensiveness, particularly from straight white cisgender men, with anger, guilt and argument.
And hyper fragility? It's when, Bowers says, "that cold, left unchecked, could become pneumonia. You move from knee-jerking into what we see in Charlottesville. Riots upon riots. Violent white men in America who think they're victims. Of what, now?"
The artists encourage audience members who might feel provoked by the content to challenge themselves to engage, instead. Bowers and Chiu have already prompted these conversations on their social media profiles, to see what sorts of responses they get from the question: "why are white men so defensive?"
Bowers says, "white men are pretty defensive, and sooky-bubbas. The way that women, that people of colour, have gone: 'I'm uncomfortable, I'm going to throw myself into a really uncomfortable spot'? You don't see white men doing that yet. They're pretty comfy and at ease. Instead of telling women to 'lean in' for leadership, why don't we say: white dudes, lean in for this consciousness?" Victoria adds, "white space is not politicised. So, being politicised feels very strange to some people."
Hyper Fragility may sound like a show predominantly about white people, but it actually has a more personal focus. It's a piece that attempts to explore another of Bowers' intellectual quandaries: "can intersectional feminism be made funny?" Chiu runs me through some of the physicality of the show: a hyper fragility dance in bubble wrap, a TED talk, a challenge to the silence that is assumed of an Asian woman, reflections on their shared Chinese heritage and the ways in which it was ignored in their schooling. "It's putting us at the centre," says Chiu. "Having the narrative come from us."
They joke about the absurdity of pitching this work anywhere, let alone the Arts Centre: "It's a show with a middle-aged Eurasian mother of two, with a fairly combative black radical feminist who wants to burn down this very theatre. Can we do it at your theatre?"
The metaphorical pitch is a joke, and yet, it speaks to a burgeoning reality. The tides are turning, and many unrepresented voices are finally beginning to be acknowledged by a wider public. Bowers views this progress as a giant wave coming in, washing a previous consciousness away. "A lot of people who have been used to that power and privilege are getting cut down to size. Folks that looked up to those folks are shifting in consciousness."
Chiu sees the creative potential in this freshly razed ocean floor: "a lot of artists are trying to build another way." -
Hyper Fragility in the Premium Lounge Arts Centre Melbourne
December 2017 for Mapping Melbourne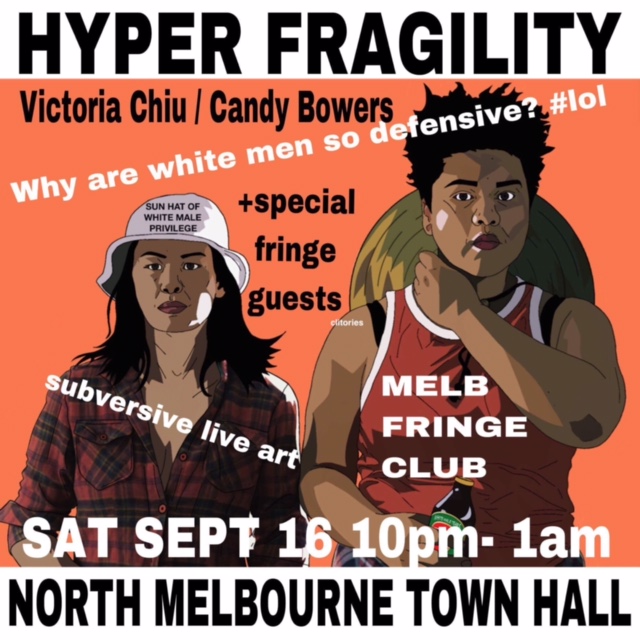 Hyper Fragility Melbourne Fringe Club night
Sat 16 September 2017, Nth Melb Town Hall 10pm- 1am
with Candy Bowers and Victoria Chiu
Artwork: Clitories
Photography: Gregory Lorenzutti
Candy and Vic
This is the start of something. A tale of two woman. Starring Candy Bowers & Victoria Chiu. Photography by Gregory Lorenzutti